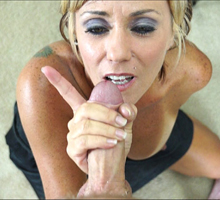 Before going out on his big date, Joey's stepmom Felicity Rose warns the young man not to get too excited and ruin this date like the others. He knew what she meant. Joey was so turned on just by being close to a woman that he would get an erection and have to walk around with it until he jerked off. Normally, most guys would just hide it, but Joey has a huge cock and it's impossible not to see. Now Joey was worried and Felicity could clearly see it on his face. "Don't worry baby, mommy will take care of you." Felicity said to her son while motioning for him to come near.
Joey and his stepmom had a special relationship and he was about to get one of the many benefits of that relationship. Joey was about to get a handjob from his hot stepmom Felicity Rose! She got on her knees in front of the young man and unzipped his pants. "We have to hurry," Joey said. She knew how impatient Joey was and how much he wanted to cum. But, this was going to be fun for Felicity too and she wanted to take a little time to enjoy her stepson's big cock in her tiny hands. Felicity began to slowly stroke his rock hard cock up and down. She almost admired the massive member as she caressed it and watched it thicken even further.
"Please mom!" Joey loved every second but needed to hurry if he was going to make his date on time. Felicity gave in to the young man's begging and started stroking him faster and tightened her grip. "Cum for your mommy," Felicity said as she looked up into his eyes from her position kneeling below his cock. He groaned from hearing his stepmom commanding him to cum and knew it wouldn't be long. She stroked him much faster and played with his big balls. Her pace was furious and she could tell he was going to cum very soon. His balls swelled and his cock began to turn red. She waited for his hot load, wanting it to drip down her hands so she could lick it off. Go watch the ending to this amazing video!