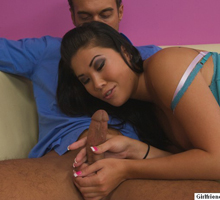 It's amazing how sexual the relationship with my girlfriend is after 2 years of being together. Other couples talk about things cooling down and sex happening less than once a week. Not us, we go at it like wild animals and still do the small things for each other like oral and even just finger fucking her pussy. She still does the small things for me too. I love getting a good handjob and she's well-aware of this love I have. There's just something about a woman's soft skin and gentle grip around my cock that drives me wild. She knows this and is always willing to satisfy my desire for a good hand fuck!
Today was one of those days I just felt like getting a good handjob from my amazing GF. She was happy to satisfy me with her soft hands. My girl took my cock out right there on the couch while I relaxed and started stroking. She's such a pro at this now I don't even have to tell her what I like any more. She starts off slow and tight, gripping my cock hard in her tiny hand and slowly massaging up and down the shaft. Knowing I love my balls rubbed and played with she always keeps one hand on them. She even knows how to tickle them just right with her fingernails. It never takes very long for my cock to grow thick and long in her petite hands.
When it's just thick and long enough she spits on the head of my dick and lubricates her strokes. I love how that makes her hand feel on my cock. It's almost like her hand is a tiny pussy that rapidly strokes my shaft. The best part is when she gets herself horny from the handjob and rubs her own pussy juice on my cock to lubricate it. She has me extra hot and excited today and I'm longer than normal. She's now using both hands to power stroke my cock. She's so damn good at squeezing, twising, and yanking my cock that I'm ready to explode just a few minutes into the handjob. I don't even have to warn her, she can feel my cock starting to spasm and knows it is coming. She opens her mouth wide above my cock and is ready for my huge load!