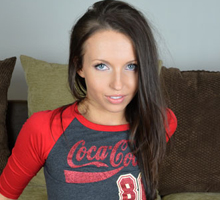 Kriselle Kavana may appear to be an innocent teen girl, but she is truly sadistic, as you will see. Ever since her first boyfriend cheated on her, Kriselle has taken that pain and heartbreak out on every cock she's encountered to this day. Her merciless torture of male genitalia is the only way that Kriselle finds pleasure.
The poor soul bound to the milking table is Kriselle's new boyfriend. She convinced the young man that it would be an erotic experience filled with pleasure that would bring them closer together. Desperate for some sexual attention from the gorgeous teen, the young man agreed to have the restraints placed on his ankles and wrists. She even convinced him to wear a leather mask blinding him to what she had planned.
Once he was properly bound to the table, Kriselle began her torture. Teasing his cock with her tiny fingers and hands she brought his dick to an erection that she would then let go limp. The poor man suffered this cruelty over and over again. Then, the teen babe smacked his penis and clapped it in between her hands painfully smashing his member. His muffled screams were doing no good, Kriselle was in complete control and dominating his cock any way she pleased.
To her surprise, the cock grew to a full erection and was quite large. During the painful squeezes and smacks the cock received she also played with it and admired its girth. The young man's screams had become less frequent. Was he enjoying the torture his cock was receiving? Kriselle was going to find out by administering more painful techniques!
She squeezed the base of his cock and made his dick plump up with trapped blood. She then squeezed the top of his cock just under the head with her other hand. Her grips tightened to the point that she thought the cock may explode! His screams came back louder and longer than before. He was now experiencing true pain! To watch the entire video and find out what takes place next, visit HandDomination.com!