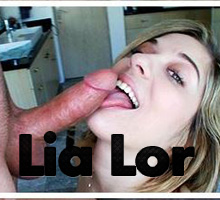 You can always count on Lia Lor to breathe some life into a dull party. Bored to death by a house party that just seems to drag on, the radiant beauty sneaks off with Chuck to a staircase upstairs for a private party of two.
She gets on her knees as he towers over her with his hard prick dangling right in her face and like a good girl, Lia does what comes naturally to her – she grabs Chuck's balls and caresses them with one hand while her other hand strokes his cock. After a few strokes, she brings her palm to her tongue and lubricates it really well before wrapping it around the erect penis and jacking it off firmly but tenderly.
When the noise drifting in from the house party downstairs proves to be such a distraction to their handjob fun, the naughty twosome move their kinky party to the bedroom where Chuck lays back and let's Lia do all the work. She beams as she delivers slow long strokes to his shaft and giggles when she feels the cut cock tip pulsating in her hands. This serves as motivation for her to jack the cock faster and that is exactly what she does.
The friction between Lia's hands and Chuck's cock proves too much for him to handle but he uses all the energy he can muster to hold back and stop himself from exploding all over her hands. She slathers more saliva on her hands and keeps tugging away at his cock and when the saliva dries up, she reaches over for the bottle of lubrication and pours some on the throbbing hard cock. Lia then increases the pressure of her hold on Chuck's cock and before long, his load comes sprouting out of the head…