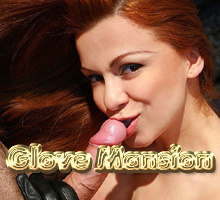 Glove Mansion proudly brings you one of the most beautiful babes ever featured on the site since its launch and she is milking the living daylights out of a hard cock. Completely naked with nary a piece of cloth touching her smooth flawless skin, the brunette beauty runs her hands all over her nude body, gently fondling her tits before lowering her bare fingers down to her pussy and rubbing her clit until she inches close to having an orgasm.
She then gets off the bed and puts on fishnet stockings with holes in all the right places – in the crotch and butt area but she saves the best accessory for last – her thick black gloves. With the gloves on her long fingers, she invites her lover over to the bed to join her and she strokes the length of his cock while sucking the tip. He moans out his approval which only serves as encouragement for the gorgeous cock sucker.
The hot brunette then switches gears and focuses solely on pumping the dude's hard stick with her gloved hands. She wraps both hands around the prick and strokes it up and down before twisting it side to side. The twisting motion drives the guy crazy and he reaches over and starts fingering his handjob princess as she services him. She tightens her grip on his cock causing him to slightly jerk forward. The friction between the gloves and his bare skin proves too much for him to handle and he grips the bed as he feels an orgasm ripping through his loins. The chick holds out one hand and uses the other hand to milk all the cum out of the erupting cock. The sight of the white cum drops on the black glove will haunt your wet dreams.