Bambi Brooks, you see her face? She seems so sweet and kind, right? Like the girl you want to treat well but fuck hard at the same time? Well, let me just stop you right there, this little amateur teen is nothing sweet, I'll say that right now. She can get just as down and dirty as anyone and if you piss her off, this teen massage therapist is going to teach you a lesson in pain and if you are very lucky, it will be a pleasure pain handjob, but that would be up to this guy here, right?
Bambi Brooks starts off by grabbing her trusty rope and tying his cock and balls tied and proceeds to slap his cock like she is trying to kill a bug, but somehow he seems to not mind it so bad, or so it would appear anyway, right? He wanted a happy ending, but I think he may have forgotten the specifics of it, so she is planning to give him a mean massage and punish his cock until she is ready for him to cum on himself, that's about as happy ending as this is going to get.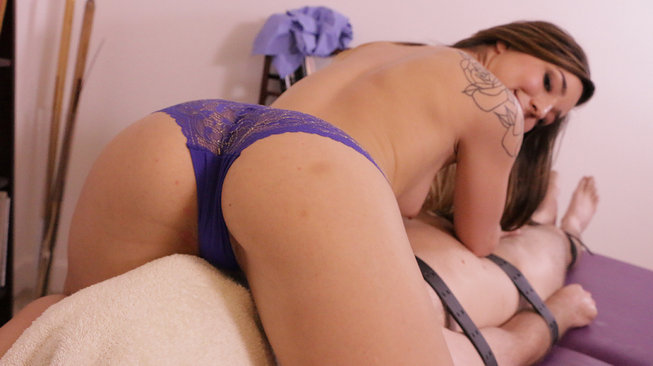 She climbs on top of him after she has him securely tied down and teases him with her sexy ass in her tight purple lace panties, knowing he can't lay a hand on her and it's too far out of the reach of his tongue so there was no getting near her pussy. She loves teasing his cock and this move just made it more fun for her when the punishment started. Putting a sexy teen amateur pussy in a guys face and not letting them near it, wow!! That is some punishment!!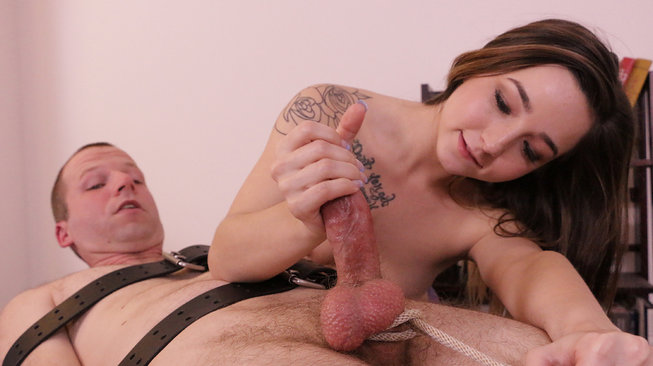 She continues to jerk his cock with it tied very tight and she holds the pressure of it in one hand while wrapping her teen hands around his shaft to stroke him, stopping and starting until she wants to give in and let him have his happy ending!!