Meet Zoe, she is one mean ass bitch, and I don't think you are going to want to take your dick to her for a massage after you read what I have to say about her, it's funny when it is on someone else, but not if it's on you! He came in for a massage and she wasn't in the best of moods anyway, this dick started being cocky with her and letting her know what he wanted and what he demanded, bad move on his part. She had been closing up bottles from a previous client and still had Icy Hot all over her hands.
She hopped up on his back and started rubbing his lower back in a deep tissue massage with the Icy Hot on her hands, it felt so good and he was getting relaxed. Zoe was smirking because she knew what this complaining dick was about to get and she loved the idea of it. And there wasn't one damn thing he could do about it but take it. She was anxious to see his reaction to what was about to cum. Zoe was not one to make mad, especially when you are about to pull your cock out and leave her in control of it… not the time for sassing when a mean massage is about to take place.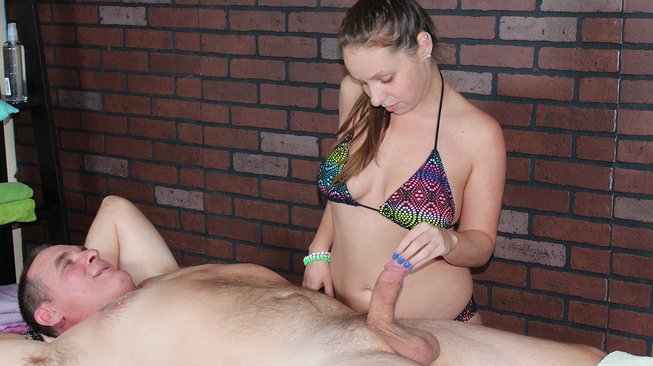 Zoe started at the tip of his cock and was teasing the tip, he was anxious and getting excited for her to stroke the length of his cock when she started teasing. Zoe just took her sweet time and ran her fingers around the tip getting it good and coated on his cock with the Icy Hot on her hands. He started feeling a weird sensation he hadn't felt before but it wasn't at all bad, to start with anyway. As her hand started making it's way down the shaft of his cock, he realized this wasn't much fun anymore and things were taking a nasty turn to the left and his cock felt like it was on fire.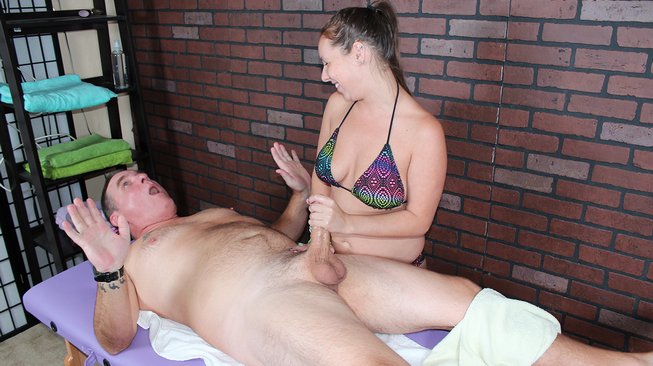 She let him know that when you come in and ask for a massage, you should be mindful and treat your masseuse with great respect, or the massage you get isn't going to be a nice one.
Click here to see the sample pics and get instant access to Meanmassage.