Mike wants desperately to get his balls drained after his massage and Alex Rodriquez is happy to oblige, but first she is going to make him work for it, he is going to get off when she says and he's going to move when she says, whatever she has him do, he better do it or she may never let him ejaculate his load and relieve his swollen balls.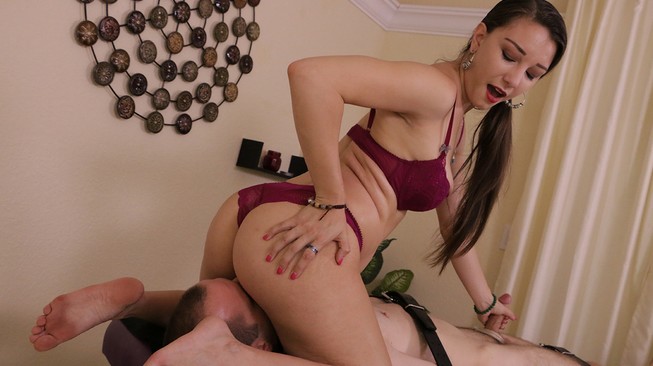 Alex Rodriquez sits on the poor guy's face knowing he cannot do anything about it because he is bound and gagged so all he can do is sniff her pussy thru her panties at best. Alex Rodriquez knows exactly how to be mean to a guy and his cock, she has learned it over the years when guys would treat her bad, she gave back as good as she got, so she has had training in ruined orgasms.
This girl is relentless, I wonder if it is something he did to her or something that is built up or if she just plain gets off on abusing cocks for a living, she is supposed to give him a massage, not a beating. She has jerked on his cock for a long time and each time he gets close to an orgasm, she pulls back and refuses to let him have it. Massages are supposed to be nice, not mean.
She decides to give him a break, or so that was what she said, but in reality, she just made it worse by blowing on it, what the hell was wrong with her thinking blowing on a cock was going to settle it down? I think she did this one on purpose, don't you? Alex Rodriquez has a fiery personality when she wants to and poor Mike's cock is catching the brunt of it this time.
The hot Latina therapist stroked his shaft, bringing him to the edge only to pull away, frustrating him. She finally drains him but in a cruel twist of fate she ruins it. But true to her word, she did eventually let him orgasm, just not quite the way he had in mind, she was very mean about it, but you have to be on MeanMassage.com or you don't get your spot, and she wanted it, so she was one of the meanest ones entered.