Meet Esmi Lee, a fiery hot Latina that is one of the meanest massage therapists there is. Don't dare go in and get on her table and ask for a cock massage because that will be the last thing you get. You will likely get your cock abused. This guy here, he wanted her to massage his already hard cock and what he got was so far from that. She tied him down and put a leather straight jacket on him for starters.
Esmi Lee cannot stop laughing at him because what he asked for is not what he's getting. His cock is so hard that she can feel it throbbing under her hands while she tightly strokes it up and down. This Latina handjob is going sideways fast as she keeps on stroking his cock and balls so tight that it hurts. About now, this poor guy has got to be wondering what the hell she is going to do to his cock next, it's already stretched to it's limit, so it can't get much worse, can it?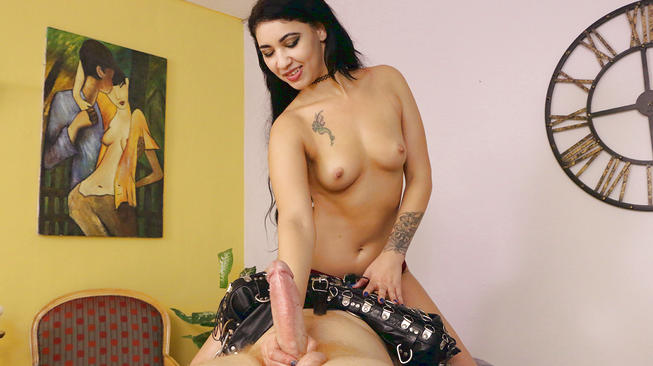 Oh but yes, it can and did get much worse, Esmi Lee jumped on the table with him and he first thought this was a good thing until she stepped up and straddled him and then sat her ass down on his face, cutting off any breath he had left and suffocating him with her panty covered pussy. Sp he did get to smell her sweet pussy, but wasn't so sure it was a good thing since she was about to choke him to death by cutting his air off. This guy is either going to be wanting this abuse more often or he is never going to ever ask for a happy ending again. Latina facesitting is at it's full peak here on this session. MeanMassage.com is packed full of mean bitches from all walks, abusing cocks and ruining orgasms!!