Any guy willing to expose his cock to Jade Jantzen during her massage is in for a cruel happy ending because this masseuse can be very mean. She agrees massage Mike's cock, but intense arousal and psychological need turns him into a whimpering pussy as she ruins his anticipated orgasm. She is all about humiliating him and the more of a pussy he is, the more she likes it and gives him more and more abuse than he can stand. She tied his cock and balls so tight that they were literally purple.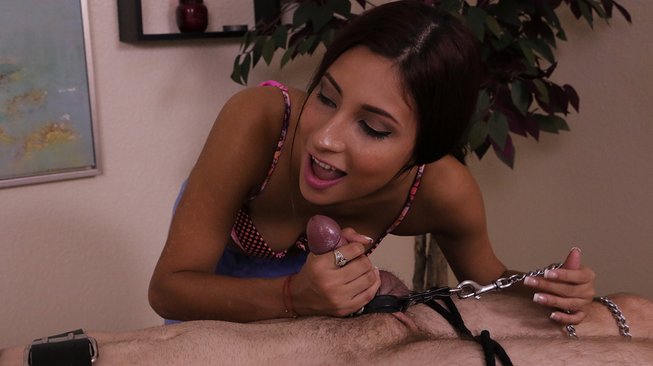 This girl is so sweet and sexy, but oh god, if you have a hardon and you come into her room at the massage parlor, you better damn well be prepared for what you are going to get, because I can assure you, it isn't going to be the most fun experience of your life. But she is just sexy enough, would you let her have her nasty little mean way with your cock, JUST so you can say that a hot chick gave you a handjob? Is it worth that to you? MeanMassage.com is the place to find this if it is something you are into.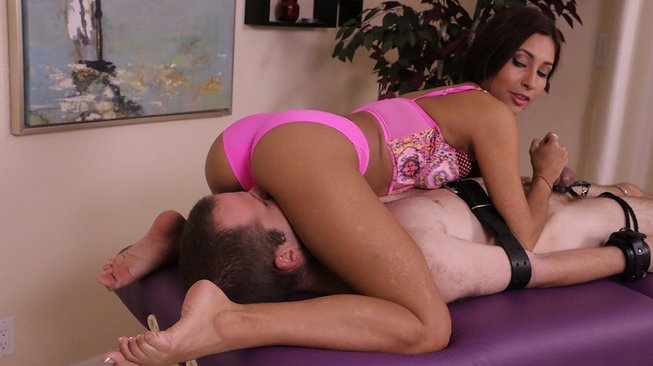 To make matters way worse, she sits on his face while his hands are tied so he can't do a damn thing about it. He has to lay there an sniff her pussy thru her panties while she is about to jerk his cock completely off his body. She knows what she is doing, make no bones about that, she knows fully well that he is at her complete control and he'll do as she says when she say. Jade Jantzen isn't one to be toyed with, she's had her share of bad relationships and she has a lot of revenge left inside her, I don't have to tell you how she releases that.
She finally lets him have the happy ending he came there for, but Jade Jantzen isn't about to and wasn't about to, make it easy on him. He wanted to come in with a raging hardon and use it on her? Not a chance in hell.