Well, what do you get when you load a very massive cock with a whole lot of cum backed up in his balls? I call it a super soaker. Dani Dare found this out the hard way, that naughty pornstar MILF thought she had taken on everything and she loved it when they spurted all over her after one of her famous blowjobs. What she didn't know, however, was just how big of a load Pike was about to shoot all over her from the end of his massive 10 inch cock.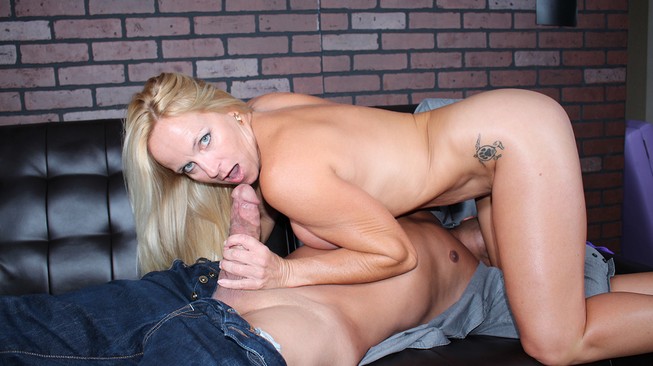 Even for a pornstar like Dani Dare, this cock was going to prove to be an adventure on its own, so big that it is a two fisted handjob and a more than a mouthful situation. But Dani Dare isn't going to let this cock beat her, she hasn't ever before and won't now. The only thing she has on her mind is just how much cum that's going to erupt out of the end of that fucker. It is going to be a Cum Blaster, for sure.
From the looks of things, I think she is almost amazed to the point of trying to see if she can hide behind it, she hasn't often seen a cock so big as Pike's and she is pretty shocked and stunned, trying to just see how big it is when fully erect, and yes, as she thought, it's almost the size of her head and she can JUST about hide behind it completely. Dani Dare isn't scared though, if anything she is more intrigued and anxious than anything else.
When they told her she was shooting for CumblastCity.com, she knew there was going to be a LOT of cum, but she didn't have any clue that it was all going to come out of one cock, good grief, this is going to be a load of cum like she has never before seen, and may not again. She knew it was about to explode, and she knew that it wasn't going to be the average amount of cum from this size cock. Pike was going to shoot so much cum on her face that she may likely drown, or will she? Dani Dare is a professional, I am sure she can take it all.
Go see the teasers now, watch this crazy pornstar try and take on all that cum!