Hey guys, meet Parker Swayze, she is sexy as hell and has big tits and a drop dead gorgeous body, but that is where the good ends, this is one mean girl and she is just about to let this guy see what happens when they don't listen to her. She hates tips, she told this guy she didn't accept tips and she was very emphatic about it. He didn't listen though, he was raised that you have to tip for the services you get and he couldn't go against his upbringing. He went to tip her and that's where it went sideways.
Parker Swayze gets on top of him and does her favorite torture trick on him, she sits on his face, he didn't expect any amateur facesitting but here he was and he was so horny that it was kind of a turn on. It's funny what can turn you on when you are as horny as this guy was at the time. He was duct taped to the table so there wasn't a damn thing he could do about it, but he could feel the warmth of her sweet pussy and the smell of her looming in his nose. His mouth was also duct taped, so he wasn't going to try and lick this sweet cunt, he was helpless to her torture and mercy, if there was such a thing. This girl gave him the meanest massage handjob he'd ever seen!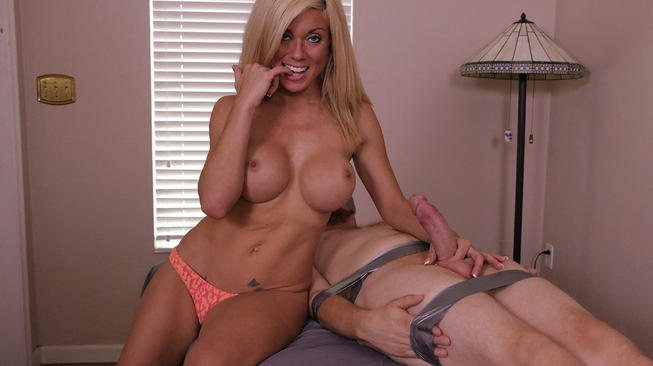 With all of his limbs and his mouth duct taped down, he's immobile and can do nothing. I bet that he's about to think that he shouldn't have offered her a tip when she said she doesn't accept them. This didn't make any sense to him, why would someone turn money down? Regardless his cock was so hard that his cock and balls were throbbing and then it happened, she started slapping his cock and balls, who the hell does that? But it kind of felt erotic and good, and boy was she just drop dead sexy!! Between the torture, the duct tape and being made fun of, this was actually a titillating handjob and he was sure he was going to want to come back. He met her thru the MeanMassage.com website and when he chose her it was for a very different reason, but after  this session, he wants more of her torture and massages.