I guess by now you are ready for some blonde action right? I have Nina Elle and I can almost bet that if your dick doesn't get hard with her, it isn't going to and probably needs some medical attention. This amateur milf has huge tits that she loves sliding big cocks between just to turn herself on but if you get a hard cock, that's better for her too. She uses those big titties as a sex toy and rubs this guys cock all over, between, outside, inside and all other sides. She teases his cock with this while she is handling his cock with her hands, so it's always got a touch on them, no matter what.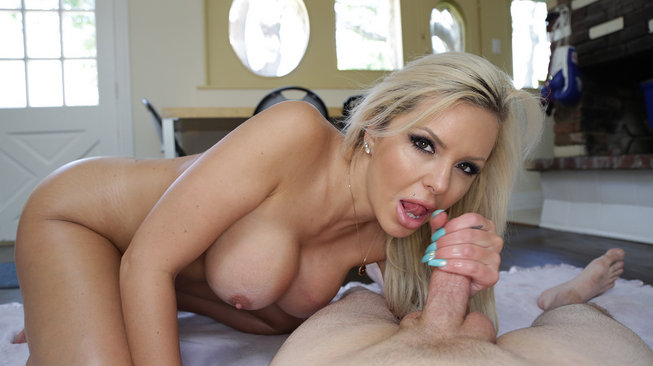 Nina Elle takes his cock in her hand with her tits rubbing his thigh and she starts stroking his cock and teasing it while she feels it growing under her hands, she knows he is fully hard because she can feel the veins and the throbbing so she knows she has him where she wants him by now. She isn't about to ruin his orgasm, she is going to let him have his happy ending simply because she is horny as hell too and she doesn't want to ruin anything about this one. She just wanted to give him a sensual handjob. She was about to jerk her way right into ClubTug.com for this one, along with many others that are already there.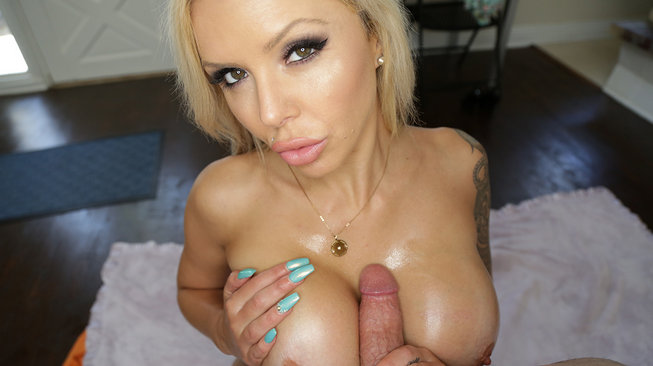 She decides to put his rock hard cock between her massive titties and rubs them up and down the length of his dick and she can hear him start to moan while she is stroking his meat between them. She knows he loves her tits so she decided to make him happy, lucky guy, right? Nina Elle is all about making him hard and giving him his happy ending – she was in a great mood and really horny, so she didn't make him suffer thru it. She have him a milf handjob and a titjob and waited for him to shoot his cum all over her titties, she loved the feel of warmth on her tits.