Reagan Foxx was in her stepson's room while he was out and she was using his computer and internet to get on her webcam and play with her members. She was completely nude and playing with her pussy and talking dirty to her members in her chatroom. She had been doing this for a good long while and forgot the time, until she thought she felt someone watching her. She turned slowly to see her stepson standing in the door way and had been watching her for a long time. She wasn't embarrassed, just the opposite, she was so horny that she was almost glad he was there.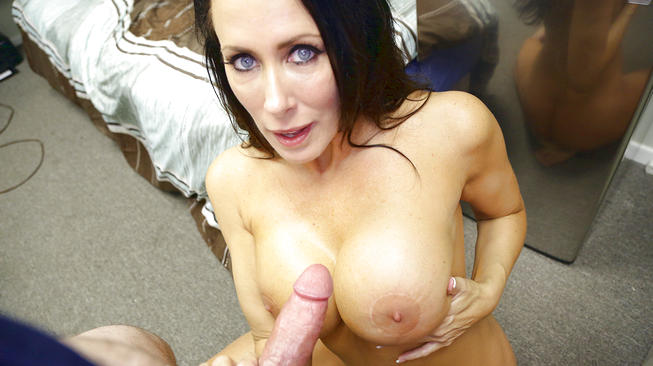 Reagan Foxx gets between his legs and begins to rub his dick along her huge milf boobs and she can feel his dick starting to throb on her boobs. Her stepson is so horny from watching her play with her pussy on the webcam in his chair, and just the thought of her bare pussy sitting on his chair was making him even more horny and she could feel his cock growing. She continues with her milf handjob and strokes his cock!!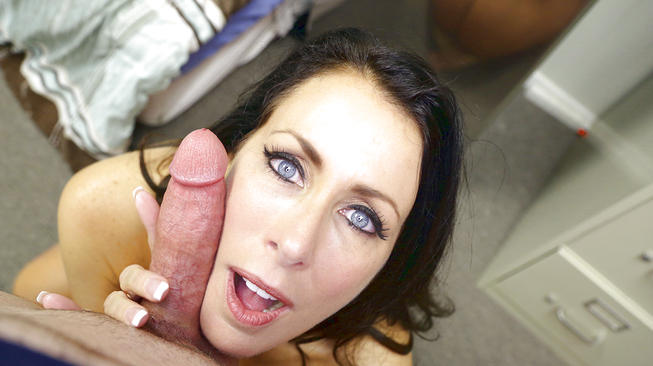 She gets his cock hard and starts now, to rub it on the side of her face and he almost came just thinking about her warm face on his cock, she knew what he was thinking and her teasing was working. She looked up at his face with her big blue eyes and could tell he was so horny and he'd been wanting this too. They both had been walking around the house and it was full of pent up sexual tension, but that was all being released right here. When you get access to Over40handjobs.com, you are going to get full access to this and 7 other sites as well as the ability to download all of the hi-def videos.