Dani Peach is a cute girl of 18 that loves to show herself on her body, whether it be her bright pink hair or ink all over her body, one thing is for sure, this sexy petite babe is one of a kind and not to be duplicated. She works as a striptease dancer in her spare time, because she loves it, not because she needs the money like most strippers tell you, Dani actually loves turning guys on and she loves showing off her artistic body!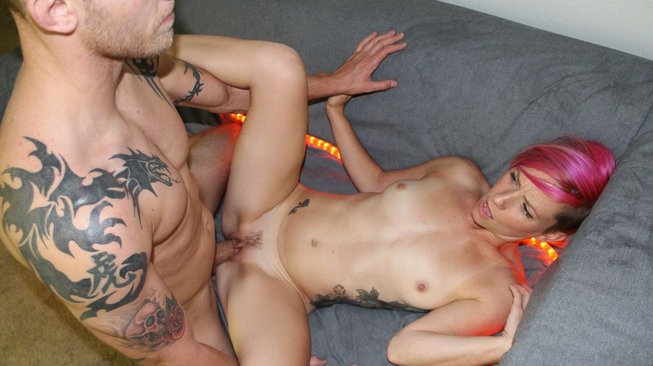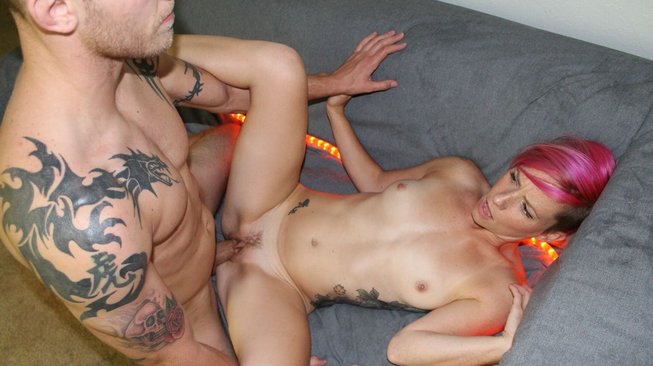 Mike came in one night knowing she was on duty and he had been watching her for a good long time, every time she danced, he'd watch her, never saying anything or making any moves on her, just watching her move her body! He decided he wanted to get a private session with her tonight and waited patiently until it was time. He soon caught up to her and asked for that private dance and she of course, agreed, and they went to the back room where she became his private dancer for the evening. One thing led to another and this private dance took a whole different twist, for both of them.
They both felt the chemistry between them and before long they were completely engulfed in a full on fucking session. She was so tight and petite that it was a little tough to get his full length into her petite18 pussy, but it was so good that neither cared. They lost time, they lost space, they lost everything and was only focused on each other and what was happening between them, the distant sexy stripper music in the background created a mood for the scene and made it more intense.
After awhile, she knew he was going to be cumming all over her and she wanted it on her tiny tight belly so she could feel the warmth of it. He pulled his cock from her tight, throbbing pussy where she had just cum all down the shaft of his cock and shot his sperm all 0ver her sexy tattooed belly. He kissed her and promised to see her at home and left as quickly as he had came.
See the full set of this session over at Petite18 – after you see the high def samples