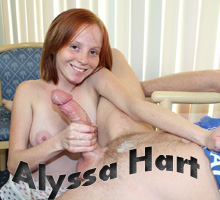 This latest update from Teen Tugs is a David versus Goliath kind of situation where David is a tiny redhead cum loving slut who answers to the name Alyssa Hart and Goliath is the monster cock attached to Mr. Johnson. Bible references aside, this is one sizzling hot handjob picture gallery that kicks off with harmless flirting between a much older man and a teen who truly loves big cocks and it ends with the naughty redhead milking all the creamy white seed out of the cock with her very skilled hands.
Wearing a tight tank top and very short jean shorts that show off all her curves, Alyssa Hart gets down on her knees in between Mr. Johnson's legs and smiles as she grips his thick cut cock really tight with one hand. Her hand is too small and can barely cover the circumference of the giant cock so she enlists the help of her other hand and holds the throbbing hard cock hostage between her palms.
She then removes her top to reveal her perky small tits. She grabs them and fondles them before squeezing them together so Mr. Johnson can rub his cock in between them. The titjob may feel good but it's clearly not as satisfying as a handjob because the horny twosome soon switch gears and Alyssa Hart goes back to doing what she does best and that is jerking Mr. Johnson's big stick.
Midway through the very sensual handjob, she loosens her grip a tad and lowers her mouth to the head of cock, lubricating it with her saliva before grabbing the length of the cock with all the energy she can muster and stroking it hard and fast until thick drops of cum come spurting from the tiny hole of the cut tip. Alyssa Hart gets quite the workout in this episode and you can view the full length handjob video at Teen Tugs.