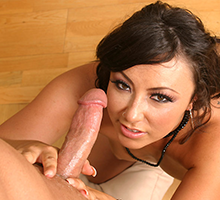 Sativa Rose is a sexy brunette babe with small natural breasts. She loves giving handjobs, loves getting facials, and is always horny. She's been waiting patiently for you to arrive home from work all day long. Sativa has gone almost 10 hours without touching your cock and she knows that's just unacceptable. When you open the door Sativa greets you with a sweet kiss on the cheek and a seductive grab of your crotch. She doesn't let go and keeps on massaging your limp dick through your pants.
Sativa Rose waits for your cock to become semi erect and leads you to the kitchen while tugging you along. She won't let go of your cock, not now that you're home and all hers again. When in the kitchen Sativa starts stripping off her clothes with one hand, never letting your growing dick out of her grasp. She continues this until she's completely naked and you're just about fully erect. Sativa looks deep into your eyes as she drops to her knees in front of you. This babe has been daydreaming about your hard cock and you can't wait to give it to her!
Unzipping your pants from her knees, Sativa Rose takes out your hard dick and begins to stroke it with her bare hands. She knows you love having both of her hands in on the action, so she uses one to tug on your cock and the other to play with your balls. Sativa switches from your balls to a two handed handjob and then back again. She wants to make sure your completely satisfied and that she gives you the best tugjob she possibly can. Sativa looks up at you with puppy dog eyes giving you the look she always does. She almost begs for your cum. Feeling your hot cum in her mouth, on her face, and all over her bare body is enough to give Sativa an orgasm herself. She wants you to cum so bad!
Sativa Rose begins to furiously stroke your cock with both hands. Her arms use all their strength, her hands grip as tight as they can, and her fingers drag along your shaft. "Cum on me, baby!" She says looking up at you from below. "Cum on me now!" Sativa begs while never missing a stroke. It's all too much for you and you explode. She opens her mouth taking in the first squirt, then takes another squirt on her face, and then points your dick to her tits and lets you cum there too. She rubs your cum into her breasts, her face, and swallows your load.