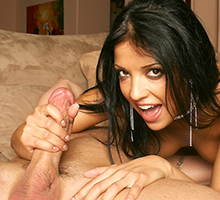 Maya Gates is a sexy brunette babe with a dark complexion and an amazing body. She wants to show you that body, but only if you agree to masturbate while she performs a striptease. Who's going to disagree with that? Sit back in your lounge chair, enjoy the beautiful summer day, and watch Maya take off all her clothes just for you.
As soon as you take your cock out Maya begins to slowly dance in front of you. You begin stroking your cock and Maya begins lifting her shirt over her head. Your strokes become faster and Maya unclasps her bra letting it fall off the front of her chest and exposing her beautiful breasts. Now you really start wanking your cock faster and harder as you see Maya taking off her pants. She then tugs her panties down her legs and stands before you completely naked and looking at the erection you have.
Now it's Maya's turn to start giving you a handjob. She kneels down in between your bare legs and grabs your dick. Grabbing it firmly, she spits on the head of your cock to lubricate it for her strokes that are about to come. She spits on your dick again just to be sure her hand will glide smoothly up and down your shaft. Maya Gates begins stroking your cock up and down from your head to your balls. She loves wrapping her petite hands around a thick cock! Her hand moves faster and her grip gets tighter as your erection continues to grow.
Maya Gates cups your balls in her other hand while continuing to stroke your dick. She even leans forward and sucks them into her mouth to hum on them for a while. Maya then licks your shaft a few times with her long tongue teasing it as she goes back to giving you a handjob. She can tell you're going to cum soon and prepares by placing her mouth over the head of your cock. You hear her muffled call for you to cum in her mouth. It's not long before your cock erupts and shoots load after load down Maya Gate's throat! She loves how you taste.