Pressley Carter nestles down between his legs and starts teasing the head of his cock with her petite hands and allowing him to feel her boobs touching his legs, wearing her bra, but she knows it's making his dick hard as hell because she can feel it growing in her hand and while she is licking around the tip of it. This tattooed blonde babe is all about getting her hands wrapped around monster cocks and this one is perfect.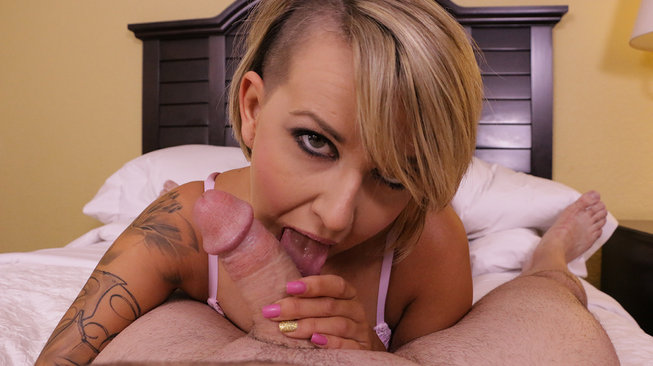 She is so seductive and any cock would be without a chance in hell of not giving in to her seduction. When she uses her tongue and licks up the shaft of his cock while looking him right in the eyes, he's done for and all there is is to wait for the cum to spew now, because he has no control over anything, much less his throbbing cock. Pressley Carter is second to none when it comes to cock teasing, she knows what to do and how to do it. This amateur blonde loves doing TeasePOV films and you can see hers and all of the other girls doing nothing but cock teasing.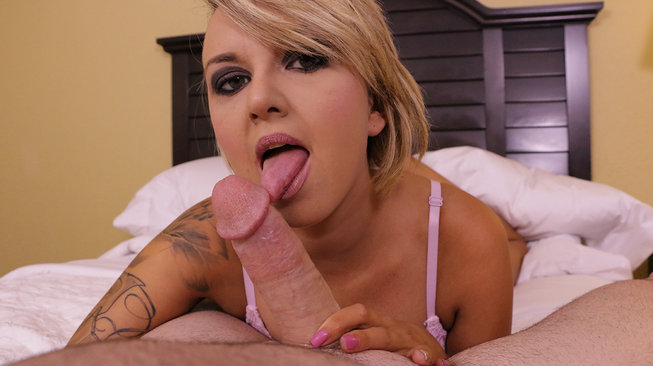 After she plays with his whole cock for a little while, with her tongue, her soft warm mouth and her hands, she decided to focus only on the head of his cock, not the base of it but the head where it is so sensitive. She slurps up his precum while she strokes his massive cockhead and she can feel his leg twitch knowing it's getting so good for him that his toes are curling, she knows by this that she has done her best and given him the best teasing handjob and tongue job! You can get full access to all of the high definition videos that are in Teasepov.com where the hottest girls online are doing nothing but teasing cocks!