Sarah Vandella has a love of cock has made her quite the oral artist. She uses her mouth like a brush in the hands of an accomplished painter with a highly sexual imagination. Gently stroking every single inch of any dick she has the pleasure to pleasure. The picture becomes more clear as she tosses between the fine details of her teasing tongue flicks and her solid bold strokes. Her hot mouth and teasing teeth hunger for your growing canvas. Only breaking long enough to catch a deep breath she will slide your rock hard dick between her fantastic tits and then return her mouth to feverishly draw your pre-cum into her mouth mixing it with her own spit and then laying that thick slick layer down ever inch of your cock making sure you stay as wet as her pussy is getting.
Those eyes never losing contact with your eyes so she can see deep into your soul insuring that you are getting every speck of pleasure she can muster. And never forgetting the balls as they also get sucked in to her pleasure palette and given a little color as well. Her two handed grip on your quivering man-meat is proof positive that it is not over until Sarah Vandella says its over. That long blonde hair tickling your thighs and belly as her pretty young lips kiss your cock over and over again with her moaning and groaning in pleasure as her pussy gets wetter and wetter.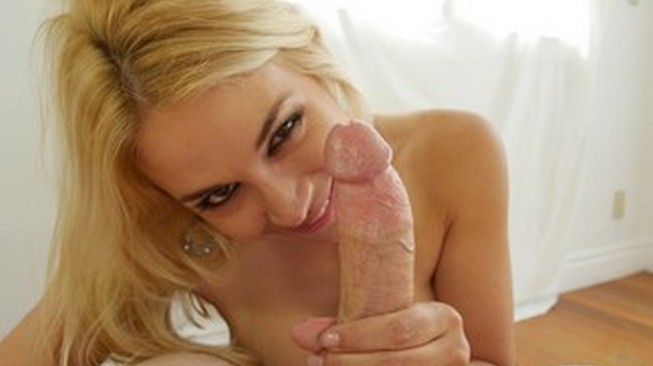 As those juices begin to flow out of her cleanly shaven fuck box you can smell the sweet fragrance of sweet young sex fill the air causing your already throbbing cock to inch even closer to exploding in her pretty little face. And lets not forget that smile… That wonderful, sexy smile that lets you know how happy she is to enjoy your dick as HER muse. When you get access to TeasePOV.com, this is just a small part of the hd-videos and hardcore action you will get from the hottest amateur babes anywhere online!