Astrid Star, just the name alone brings the idea of seduction and fantasy. And sure, that is mostly true, just look at her, she is damn sexy hot, she is perfect and she looks as seductive as one would think when you look into those piercing eyes of hers. She is always looking this guy in the eyes, watching him and his reaction with every move she makes, so seductive? I think so, right? She gently crawls between his legs and teases his cock. She runs just the tip of her tongue up and down his cock while she uses her hand to ever so gently touch his cock and balls, just enough where he can feel it but he doesn't know for a fact, maybe she isn't and he's just dreaming, or maybe she is and he's getting into this, either way, this blonde babe is all over his cock and in his brain!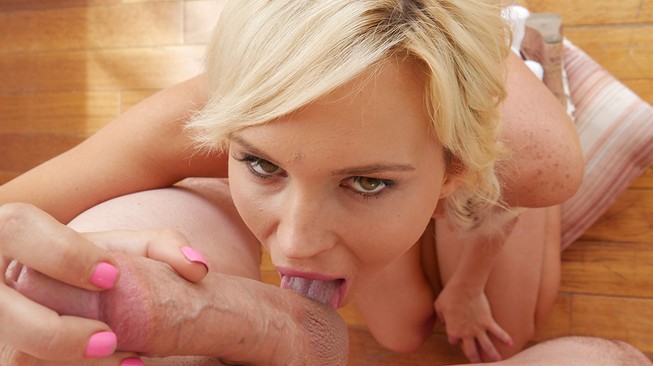 Astrid Star is such a naughty tease and she loves making him reel in this amateur blonde handjob has started on his cock, making him not know where to look, how to feel or just plain what the hell to do. Her mouth around his cock and her fingers gently gliding down the shaft of his thick cock is making him know that this isn't going to be taking much longer at all, she is going to make him cum even before he wants to.
As if things were not intense enough for his cock, she starts rubbing her own shaved pussy and making his cock even harder, if that's even possible. He can feel his balls are tight as hell and it isn't going to nbe lasting much longer. Luckily Astrid Star knows just how to turn back time and slow him down a little. This is just one of the videos of hot girls making men spew their load all over the place on this TeasePOV.com site, and not only that, you will get full access to the full network of sites in their network!!