Meet 19 year old Iris Rose, she is a cute teen with long blonde hair and tattoos and is not the innocent she might appear to be. This girl is a serious slut with an insane appetite for a big cock, and she doesn't feel in the least little bit bad about it, she is a slut and she knows it and she loves it! Today she is intending to have her way with her own cock. She yanks his clothes off and starts teasing his cock with her clothes on, but that doesn't really last long either. A naked teen is far better, right?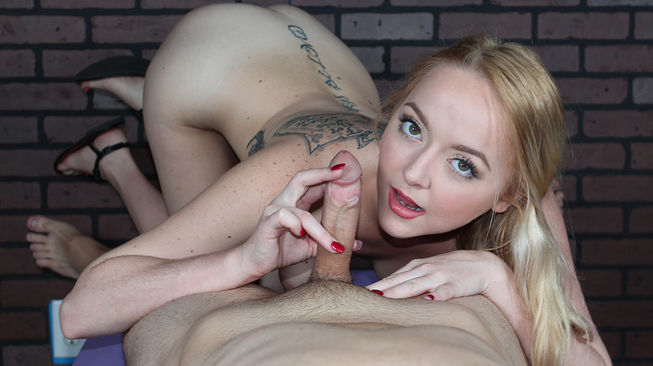 Iris Rose gets her hands on his long cock and there is just no way of knowing how far this is going to go, but you can bet this teen slut is going to milk it for all it's worth and every drop she can get from his cock and balls. She loves teasing any cock, big or small, all she cares about is getting it to do what she wants and how she wants. She is only 19, so she is quite the spoiled brat in getting her way, just like any other teenager.
This blonde bimbo seems to only have a one track mind, she gets between his legs and while totally naked, jerks his cock off with her tiny hands, while he gets to watch her naked body on top of his legs, not being able to touch her at all. She knows what she is doing, don't let her fool you. She is a sexy beast of a girl, but she didn't get on Teen Tugs by being nice and friendly, she is a blonde bombshell and a slutty teen. I am not into using such words, but she carries them like her name, so I don't feel so bad calling her a little teen slut, that's what she is and loves it!