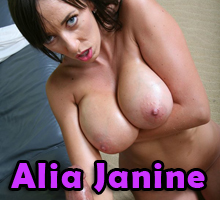 Alia Janine is a beautiful brunette babe with massive natural breasts that jiggle and sway from every movement she makes. Every man that gets a massage from this babe immediately makes another appointment. She always wears low cut tops with no bras that put on a show for the men as they get their massages. Alia had always wondered why all the men would get erections so often just from shoulder and back massages.
Of course, being the naughty babe that Alia Janine is, she also offered special treats to her regular clients for a little extra cash. She would get completely naked and even give the men handjobs. She figured that it was just massaging another part of the body and no big deal. Besides, she truly enjoyed wrapping her lubed hands around a slippery cock and getting it to cum.
Today's client is one of her regulars and she knew he'd be asking for the special massage package. She prepared by stripping completely naked before the massage began. Then, she proceeded to take off the man's clothes and wrapped a towel around his waist for the first part of the massage. After she rubbed his body from head to toe and he was fully relaxed and already erect it, was time for the special part.
Getting onto the floor with her client, Alia Janine rubbed her nude body all over his so that her entire body was oiled and lubed. She then grabbed his cock and squeezed her grip around it tight. It was easy to move up and down his shaft with a tight grip because of the massage oils. Her big tits swayed back and forth as both of her hands pumped the man's cock. She went from slow and gentle to a very fast pace and an extremely tight grip. He was starting to thrust his hips into the air to meet her downward strokes. She knew it wasn't long before ropes of cum would shoot up into the air. Alia gripped his cock as tight as she could with one hand and began massaging his balls with the other. This handjob was nearing the end!
If you would like to see the entire picture gallery that goes with this story, please take a look at ManoJob.com. If you join the site you will be treated to HD videos and pictures updated weekly!