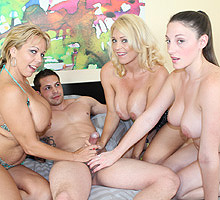 Simmer down gentlemen, this tri-handjob scenario is not a dream but something that actually happened to one lucky fella! Three busty beauties were playing volleyball when their game was interrupted by Scott, a well-meaning guy who couldn't resist getting fresh with the sexy ladies but instead of letting him smack their ball, they took him back to their house and started playing with his balls. The handjob video of this lucky dude getting serviced by three hot chicks at the same time can be viewed in its entirety at ClubTug.com
It's a hot summer day and Amber Bach, Charlee Chase and Melanie Hicks decide to get together for a friendly game of volleyball. They toss the ball around a couple of times to warm up and just as the game starts getting serious, up walks Scott looking mighty cute in his shorts. He tells the ladies he wants to join in their game but they have a much better idea in mind so they take the unsuspecting chap back to their place where they proceed to have their way with him.
With their big tits hovering over his face, Scott watches as Amber, Charlee and Melanie loosen the strings on his shorts and take them off before taking off their bikini tops. The three ladies then place their hands on Scott's rock solid cock yanking it hard at the same time. Scott has never gotten a handjob from three ladies at once so this is a new experience for him. The ladies' hand movements are so well coordinated that it doesn't take too long for Scott to explode and when he does, his thick sticky man juice lands right on the ladies' massive tits!