Meet Milf Chloe, and no, of course that's not her real name, but she is a Milf and her name is Chloe, so I call her Milf Chloe. She is an older woman that seems to have a thing for having guys jerk off all over her face and she got a real load this time with this cock in front of her. She got blasted all over her face and down her chest and into her lap with his load of salty jizz.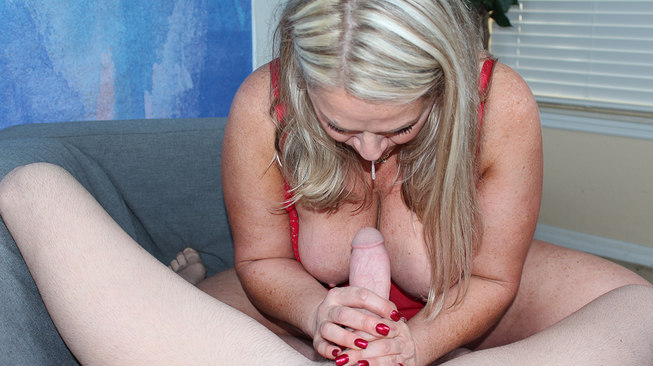 With her big old saggy titties hanging out, nipples hard, and a firm two fisted grip on his cock, Milf Chloe leans over his hardon and spits on it to make sure it is lubed up for her to stroke it and get him to spew his jizz all over her face. She looks him right in the face while she is stroking his thick cock and rubs his balls. She isn't shy about her love of cum, in fact, she believes it helps her skin. If that's what she wants to tell herself, I am sure this guy or any other doesn't mind a bit helping her with her skin condition, would you? If it meant a free blowjob and you got to shoot all over someone's face?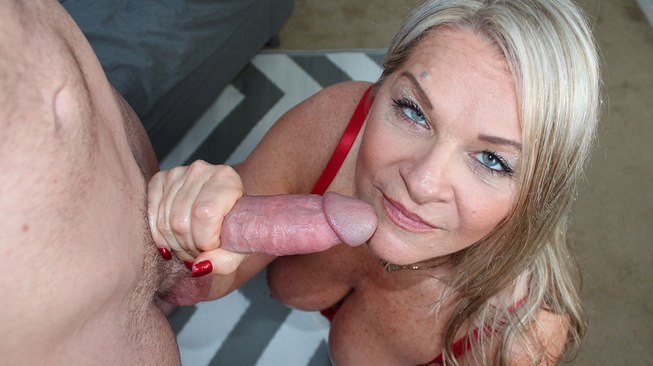 She grips his cock like it is going to get away from her, and she can't have that at all. She jerks his rock hard dick so hard and is anxious about getting his cum out of it, she loves the warm, slightly sticky texture of his cum running down her face. I am not sure, but I bet she rubs it all over her when the cameras go off, getting a full on body massage in his fresh cum that he's ejaculated all over her. She is  all about his cock, not even realizing that her big sagging tits are such a turn on to him and helped things along when he felt them rubbing on his legs. This amateur milf is all about the cock, and she didn't even care or think that she might be just as hot and sexy to him. Milf Chloe is one hot mamma, especially after getting into Cumblastcity!!