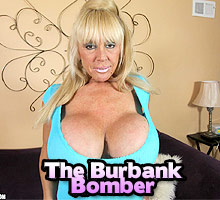 Have you ever watched a homemade granny handjob video that stopped you right in your tracks and made you look at grannies in a whole new light? If you've never, you're in for a very special treat today because this new update from Over40Handjobs.com features Shelly The Burbank Bomber and she is about to show you why you should be hooking up with grannies instead of messing around with younger chicks.
Granny Shelly is a big breasted blonde who likes to wear tight shirts that show off her massive rack. She dons a blue top that darn near exposes her two huge melons and Jimmy can't help but salivate at her monster chest. He gets an instant boner as he imagines himself motorboating the big boobs and his hard-on gets worse the more he stares at the blonde grandma's chest. Shelly catches him staring and offers to help him get some relief so he's not walking around with a tent pitched in his pants.
She whips out her sexy 44JJJ tits and plays with them while Jimmy watches nearby. She then gets on her knees and pops his rock solid cock into her mouth but after a few long and slow sucks, the naughty grandma decides that she would rather feel his big throbbing dick in between her big tits so she wraps Jimmy's dick in her bossom and jerks him off with her big boobs. The big boob handjob is more than Jimmy can handle and it doesn't take too long for him to burst his nut all over Grandma Shelly's juicy monster boobs.