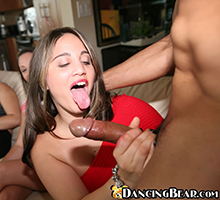 Jenny is getting married and all the girls wanted to throw her a bachelorette party to remember. She has about 20 close friends that always have a blast when they get together. Jenny left it up to her friend Sandra to make arrangements for the party. Sandra was always the wild one and Jenny knew she would put together a great evening for all the ladies. She had no idea just how wild things were going to get!
Sandra was looking on the internet for strippers to hire for the party when she came across a website that featured dancing bears. Having no idea what that actually meant, she clicked and found out that strippers come to parties dressed in bear costumes and then get naked. She thought that was an interesting twist and booked a couple guys for the night.
The doorbell rang the night of Jenny's bachelorette party and Sandra answered. It was them, the dancing bear guys. She left them in and hit the music. Jenny immediately began laughing and knew exactly what was going to happen, or so she thought. The rest of the girls clapped and cheered and couldn't wait to see hot guys in just their small underwear. The bears started dancing and the party started getting wild.
Jenny noticed the men were all hot, all had big packages concealed in tiny underwear, and all were a little more daring. Then, the moment that shocked the entire party, the guys all took off their underwear and huge hard cocks were bouncing all around the room. "Holy Shit!" Jenny screamed as a cock was shoved right into her face. The guy took her head into his hands, lined up his cock with her mouth, and thrust forward. Jenny was sucking a dick the night before she was to be married and all the girls were cheering her on. There were handjobs going on everywhere, blowjobs, and even the girls were taking their clothes off. "Sandra, what kind of shit did you get us into this time?" Jenny asked as she took another guy's cock into her hand. Hopefully, Jenny's husband to be doesn't find out about what happens or sees the pictures that are sure to be uploaded!