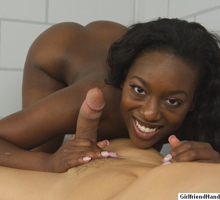 While partying in Mexico two couples were detained and held in the local jail for disorderly conduct. Just to be bigger pricks than necessary, the Mexican police separated the couples and put the white man with the black man's girlfriend and vice versa. Still feeling drunk from her night of partying, the black girl didn't want it to end and started flirting with the white boy. She even began stripping off her clothes in the cell. Knowing his girlfriend was in the next cell, this white boy made sure they were quiet, but went along with what was happening. He even helped her off with her jeans.
"I'll just get a handjob," he thought to himself, no big deal. After she was completely naked and they did some kissing, he directed her hands downward. He's never seen black hands wrapped around his white cock and couldn't wait any longer. She knew exactly what he wanted and dropped to her knees in front of him. She took out his large white cock and began stroking it softly to get it big and hard. It didn't take too much. He was completely aroused from the girl and the entire daring situation they were in. She took notice of how large his white cock was and how quickly it became hard. The black babe was definitely impressed.
She began twisting her hands up the shaft and then twisting back down. The black girl played with his white balls and massaged them gently in her hand. She spit on the head of his dick and used it to lubricate her strokes as her pace continued to increase. His girlfriend never did that for him. He was getting the best handjob ever from some strange ebony babe he just met in prison. What a fucked up night this was turning out to be.
She kept increasing her pace and was furiously wanking the white dick in front of her. She wanted to see a white man's cum and she wanted to see it now! With that thought he let loose a load of cum that shot directly into her mouth. Then another shot onto her face. The ebony babe had this white boy's cum in her stomach and on her face.