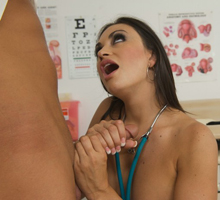 There were no doctors in the office because of all the snow and the one nurse who made it in was calling patients to cancel all of the appointments for the day. She managed to cancel all of them except for the one that had just walked through the door. He was a good looking young man who had a great smile. She decided to take him back into the doctor's office and examine the stud herself.
After a few questions this naughty nurse found out the young man had suffered a groin pull. "This is perfect," she thought to herself. No one is around but them, there is a terrible snow storm outside, and now the nurse gets to "treat" the groin pull. She starts to massage his upper thighs from her stool and she can see his cock growing inside his pants. Her gentle rubbing gets closer and closer to his hardening cock until her fingers are grazing its head. That's when she starts tracing the entire length of his cock, squeezing, and massaging as she goes. Letting out a moan, the young man obviously approves of this method of treatment.
The nurse let his cock stiffen as she stood up and began stripping off her clothes. She dropped everything to the floor and proudly stood naked before her young patient. He was in awe at the amazing nude body of the nurse that stood before him. She then stripped the young man of all of his clothes and asked him to lie down on the examination table. He did, and that's when she positioned herself in between his legs to give this young man a proper handjob. She took his big cock into her hand and began stroking its entire length while cupping and playing with his big balls. Both hands were working in sync, one massaging his balls and the other massaging his cock.
He let out moan after moan. The groin injury was no longer bothering him; it was now the load he was holding back that caused him pain. But, not for long! The nude nurse stroked his big cock harder and faster. She squeezed tighter and kept tickling his balls. Then she noticed the little squirt of pre cum and knew he was going to erupt. She quickly placed her mouth near the head of his cock, opened up, and readied herself for the hot load that was on its way.