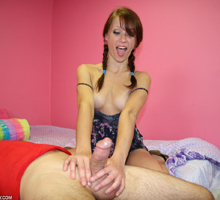 Jenna Jaded has been using her shake weight to practice giving handjobs and to strengthen her grip. She was confident in her skills after completing the workout so many times. Her boyfriend was in for a real treat now that her tiny wrists had much more stamina. Jenna was very excited and had to restrain herself from ripping her boyfriend's pants off when he came into her room.
Jenna showed him the shake weight she had been using in secret and he was impressed. He leaned back with his elbows on the bed allowing her full access to his pants and his hardening cock. She began unzipping him and couldn't wait to wrap her now strong grip around his cock. She pulled his pants down around his ankles and took his dick into her hands. Jenna stroked him nice and soft at first wanting him to be fully erect before she showed off her real skill.
As his cock became thicker her strokes became more powerful. She squeezed it tighter and he could tell right away that her grasp was stronger. Jenna kept her hand tight around his member as she pulled up and then pushed down. She could tell he was enjoying himself more than on other occasions when she gave handjobs to him. His cock was even thicker and longer today due to her better wanking technique. Jenna didn't forget to cup and massage his balls and gently play with his cock head. She was pulling out all stops and giving the greatest handjob of her life.
From the sound of his moaning and how thick his cock had grown in her hands, Jenna knew her boyfriend wasn't going to last much longer. She got down on her knees and readied herself for the massive load he was definitely going to spray from his cock. She used both hands now to jerk his cock and squeezed even tighter. He left out one last large moan and then she felt the cum shoot through his cock. Rope after rope of hot cum splashed against Jenna's chest as she kept milking his cock for more. When the last trickle of hot semen came out of his cock she looked at her chest in shock. It looked like she had just been cummed on by four guys, not one! That shake weight training did the trick for sure!