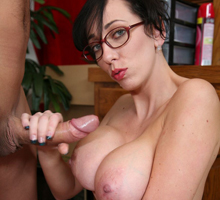 Watching handjob porn online, Alia Janine is getting turned on and her pussy is wet. She would love to give a good wank to her man after watching the videos and learning a few new techniques. Alia never knew she could squeeze a cock so hard, or that twisting the skin of a cock felt good to a man. Armed with this new knowledge she was sure that her boyfriend was about to receive the best handjob of his life!
When he got home she already had her big natural tits out on the keyboard. He knew this meant she had been watching porn again and he was going to get lucky. Quickly he stripped off all of his clothes and made his way over to Alia completely naked and already sporting an erection. He saw that she was on a site called ClubTug.com and was pretty sure he was in for an awesome handjob.
Alia reached out for his hard cock and started rubbing the head between her thumb and her other fingers. She learned that the head is a very sensitive area of the cock and wanted to pay extra attention to it. She even licked the head so that there was no friction and her saliva lubricated the massage it was getting. From the look on her boyfriend's face, Alia knew her technique had already improved. That's when she decided to try the other moves she had learned.
Moving her hand up and down his shaft she squeezed it harder this time than she ever has and heard her boyfriend moan. Then, she twisted her hand around the shaft as she squeezed. Her hand moved quicker, squeezed tighter, and twisted harder with every stroke up and down his thick shaft. His moaning increased and so did the rapid pulsing of his cock. She was so proud of herself for giving her best handjob yet. Just as she was mentally patting herself on her back his cock exploded in her face. Wow, that pat on the back was really well deserved; she thought to herself as she smiled and took the facial her boyfriend was giving her.