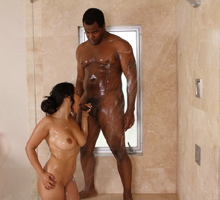 It's always been a fantasy of Jessica Bangcock's to give a black man a massage with a happy ending. Most of her clients were white or other Asian men. She would sexually satisfy all of her clients because she enjoyed it just as much as they did and would often orgasm herself. But, she never had the pleasure of having a thick black cock in her hands and she eagerly awaited her client's arrival. When the doorbell rang her pussy immediately became wet with anticipation. She answered the door and there he was, the big black man she was having fantasies about.
Jessica invited him in and quickly untied her silk robe letting it fall to the floor. She was wearing just a bra and panties which didn't do much to hide her large breasts. She noticed the lump in the front of his pants immediately and dropped to her knees. Jessica wanted to see and feel the ebony cock that awaited her and began to undo his belt and unzip his pants. There it was, a thick and long black cock that she quickly wrapped her hands around and began stroking. She led the man to the shower by holding onto his black dong and guiding him into the warm water. It was there she had an opportunity to kneel down and truly enjoy this man's big black cock in her hands and for the first time ever started to give a black handjob.
Reluctantly, Jessica removed her petite Asian hands from the black cock and guided him to the waiting oils and massage mattress. She hurried to ready the oils and wanted to feel his pulsing black dick that her tiny hands could barely wrap themselves around one more time. Jessica straddled the man and made sure to spread oil all over his body and then glided naked on top of him oiling her own body in the process. It was time now to take his cock again and begin stroking it back to a full erection. She gripped it tightly with both her hands and let it slide up and down within her grasp. The pace of her hand job became furious; she wanted to taste the hot load of a black man! Tightening and twisting his thick black shaft with her oily hands she could feel his cock begin to spasm. Quickly she placed her mouth above the head of his cock, opened wide, and accepted his cum into her mouth. For the first time, an ebony man's cum was dripping from her chin.