Alexis Fawx loves to tease cocks and that's why she is a Masseuse, it gives her the perfect chance to tease as many cocks as she can get booked in. Being a sexy as hell blonde with a little spunk and perfect set of tits and this is one popular Mean Masseuse, she gets all the bookings without question. This poor guy, well, he found out quickly that gorgeous doesn't mean sweet, this one is mean as can be and when she gets ahold of his cock, she goes right to it, she plans to have a lot of fun abusing his cock and balls, pulling out all the stops to do it.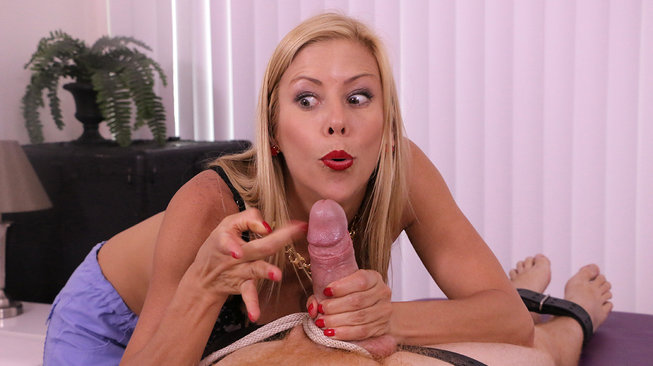 Alexis Fawx gets his cock hard as a rock and then starts thumping it, and of course he flinches, it hurt, but the more he flinches, the harder she thumps his cock. He doesn't have a leg to stand on with Alexis, she's mean and nasty and with his cock in her hands, she pretty much has all the cards in the deck in her hands. He kind of likes it, it's exciting, but it hurts at the same time, so maybe this is what is meant by hurting so good. This amateur blonde babe loves stroking big cocks. If it turns into a mean massage, that's even better.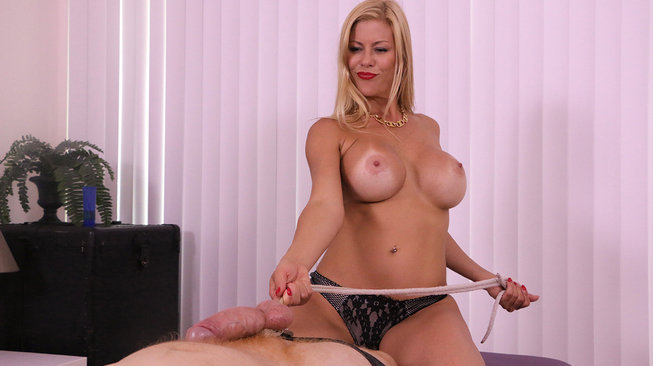 After getting done thumping his hard cock and listening to the sound that made, she gets out her rope and ties his balls up so tight that his cock and balls start to swell and turn red. Alexis Fawx is not one to mess with for sure. You go into her room and ask for happy endings, you are going to get anything but a happy ending until she decides that you are, until then, this is most likely going to be the meanest massage you will ever get, but I bet this guy comes back for more, they usually do. Something about a hot blonde with big tits and her hands wrapped around their cock until they shoot jizz all over themselves, it just makes them come back.