Cherry Morgan is just one of those bitches that just gets pisses to be pissed and this is not much different. One would think that having a huge cock in front of your face would make you happy, but not Cherry Morgan, she hates semen and she hates it especially when it gets on her, and in this setting, she gets both! She tells him she will NOT be jerking off his cock after his massage and that's that. He offers her a big tip if she will and the tip must have been good, because she went ahead with it but made sure he knew not to shoot off on her, that's just gross!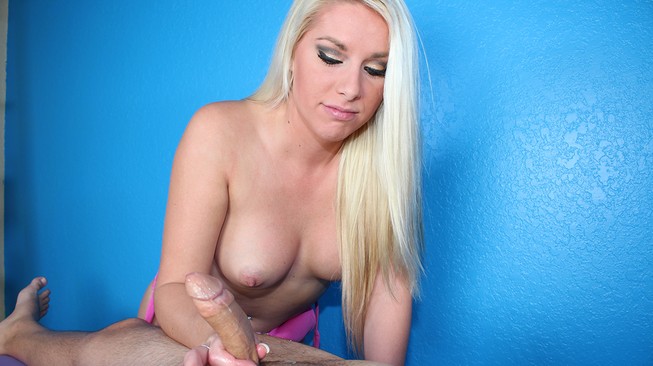 This girl really should be in a different line of work other than a massage parlor, but to each his own, Cherry Morgan just decided to be a mean masseuse and that should cure both tasks at hand. When these horny rich men come in and want a little special treatment, they must pay for it. Nevertheless, it still pisses her off to have to give their cock a massage too, she hates it, thinks it is gross and she makes that very clear. To her shock, this actually turns some of these horny idiots on even more.
What a boring and menial task, one that takes too long, end results make her want to puke and it's just not her thing. She is not willing to even think of making this enjoyable for him, she will ruin this orgasm for him if it is the last thing she does. No guy wants to feel like the girls aren't into it and it makes them feel like crap, she knows this and she makes it as mean as she can. She doesn't hurt him physically, she just lets him know she is NOT turned on by his cock. She didn't know he had heard about her and her MeanMassage
This creep did exactly what she told him not to do, he shot his nasty, stick, hot cum all over her hand and she hates him for it and is going to make him pay for that one. She had done everything she could to make him feel like crap and stop, but the more mean she got, the more turned on he got.