Meet Christina Skye, she is one cruel bitch, but she isn't abusive the way one would thing, she doesn't smack her customers around or anything like that, no, what she does is much worse than that, by the time she is finished, I think they would prefer she beat the hell out of them. This bitch isn't JUST going to massage them, she jerks them off and then gets them all tied up, and once that is done, she starts to tickle them, yes, I said tickle them.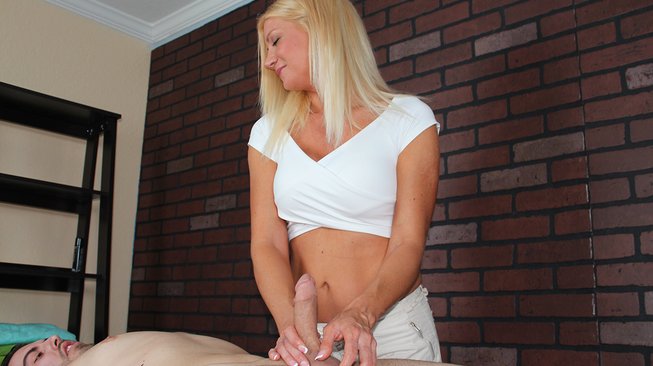 She starts out innocent enough and it actually feels kind of good to feel her fingernails gently rubbing around on his balls, it is a very sensual tickling, so nothing too terrorizing on his cock and balls. This was pretty good and nothing like the torture he had heard about when it comes to this massage therapist. He was pleasantly surprised, her hands felt amazing on the shaft of his cock and his balls. The massage he was getting was nothing of a mean massage like he'd heard about with Christina Skye!
Oh boy, but there it is, she then starts tickling his ribs after she got his dick rock hard, and this wasn't pleasant even a little bit, it was downright terrible and almost painful. On one hand the hand on his throbbing cock was amazing and on the other was ticking his ribcage with such relentless aggression that he was all but in physical pain and wasn't exactly sure how in the hell he was going to get out of this one. Christina Skye was definitely living up to0 her name and reputation for being a mean bitch, for sure.
Her insessant teasing of his entire body was more than he could handle and he finally came and shot his load 5 feet in the air, with such force. But wow, that was the most amazing and the most terrifying handjob he'd ever had, hands down.