Naughty and bitchy Kimberly Moss is really in a bad mood today, even more so than usual. She's a diva sure, but it goes beyond that, she's a bratty thing that gets really nasty when her clients cross a line and today was one of those days. This guy came in thinking he was going to get a happy ending, he'd done it a few times before, so he walked in and pulled out his cock, biggest mistake he was going to make on this day. Kimberly wasn't happy with him just assuming the way she was going to do things today, she'd show him fast and hard.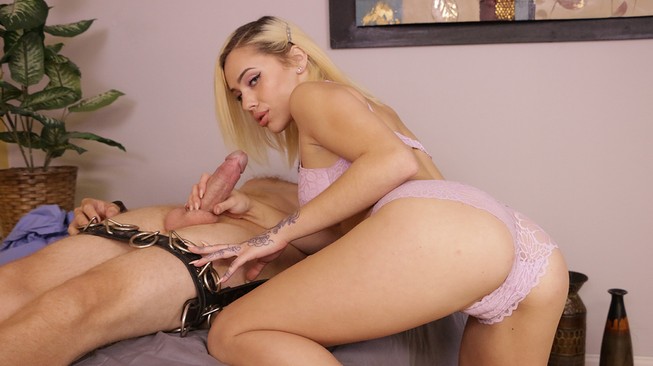 She strips down to her bra and panties just to tease him because he's pissed her off and she is going to make him pay for ruining her already bad mood. How dare he come in here and assume anything or try and tell her how he wants his cock yanked until he gets his happy ending. No way in hell is he getting a happy ending and if she has her way, he's going to have that happy ending ruined. She'd had enough by now. This inked blonde amateur was not about to let him push her around! This mean massage was well earned by him!!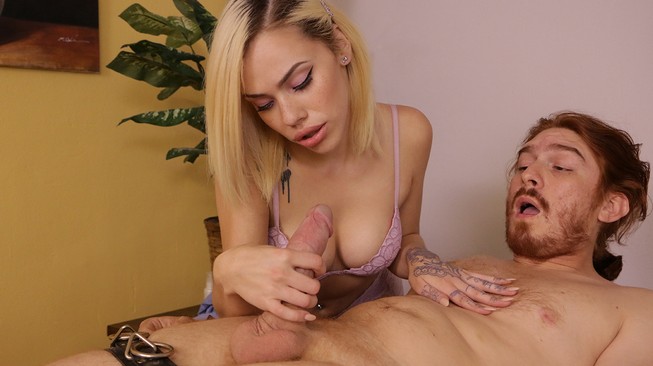 Having him all tied up and his cock throbbing like crazy, she decided she was going to tease it and let him get just to the point of cumming all over himself and she backed him off. His hands were tied and so were his legs, so he had zero control of this mean bitch and at some point, he almost didn't want to, it was kind of a turn on, even though he'd like to have some control, he somehow knew he wasn't getting it. Kimberly Moss was in a mood that there was no coming back from, he'd ruined it and this handjob was one he kind of earned. He'd make sure he thought better of how he came in next time. MeanMassage.com is packed full of tons of such nasty bitches that love to abuse cocks!!