Sierra Nicole, she looks sweet and maybe a little innocent, but if you are a fan of MeanMassage, then you know from experience, she is probably not at all! In fact, just the opposite, she loves abusing cocks, especially if the guy comes in begging for a happy ending. No way in hell is she going to give him that, he's going to beg alright, but not for a happy ending.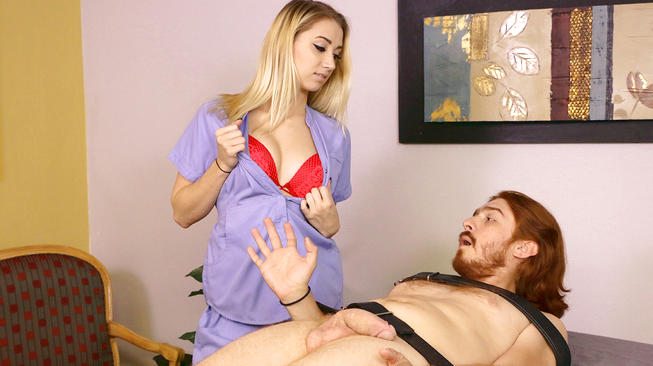 Sierra Nicole gets his hands tied up and then starts to tease him, just out of reach, where he can't do a damn thing about it. She pulls her top to the side and he can see her red bra and her cleavage and he wants to touch her boobs so bad. Sierra Nicole knows this and it makes her all that much more happy to know he's getting more aroused by the minute. He is getting the best and worst massage he has ever had here. It's an amateur handjob for the books, and not one he is soon going to forget!!
She starts to stroke his cock, holding the base of his cock very tight in one hand and stroking his shaft with the other hand. Her grip is so tight that you can see the pain on his face, his cock getting harder and his balls swollen and all she can do is grip it tighter and tighter.  She gets in closer and now she is naked and he can sense the warmth of her naked body so close to him and he cannot even come close to touching her with his hands, but he can smell her scent near his face, and that is her intent, she wants him teased and abused as far as she can push this issue with him. Meanmassage.com has many more of these handjobs in hi-def and full length!