Meet Vicky Vixxx, I guess saying she is a mean little vixen would be a little redundant but that is precisely what she is, she is wicked mean. Before she will even allow him to be touched, she gags and blindfolds him and then ties him down to the table. Now that he is tied and bound, she intends to have her way with him and he'll do as she says, he is, afterall, completely at her mercy. She loves to play games and she convinces him to play along. He came for a happy ending, but sometimes it just seems ok to let the chicks have control of the cock and that's what he did.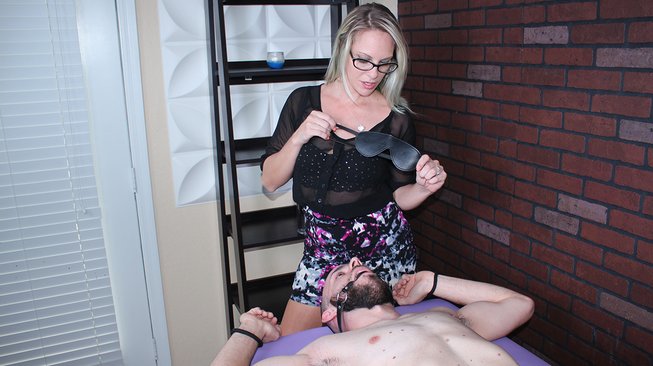 After she gets his him all ready and bound to her liking, she then turns straight to his cock, nevermind any kind of massage, which he came for, this was her game, her rules. Vicky Vixxx didn't even get undressed or come in her masseuse uniform, she didn't feel like it, so she just did her thing with his cock however she wanted to. She started to gently rub his cock to get it hard and make it stand to attention and it didn't take long before his cock was standing straight up and she could feel his balls start to throb under her hand.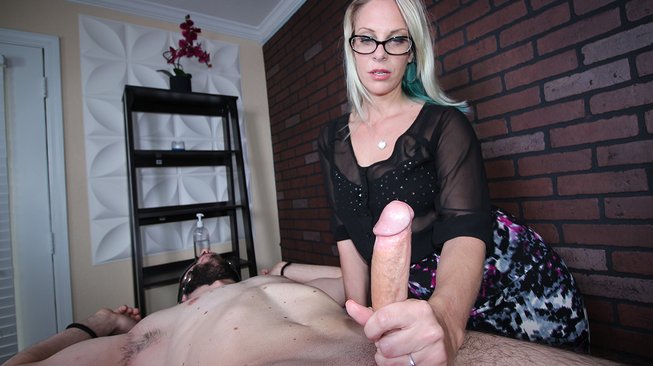 She soon started to squeeze the base of his cock with all of her strength and kept him from cumming before she was ready for him to. She worked his cock with her lubed hand, up and down and with a tighter grip. She knew this idiot wasn't going to last long, so much for her rules, her game, he wasn't giving this girl no fun and that made her mad! This blonde with her black glasses was visibly pissed when he came all over her damn hand when she was intending to play with his cock and tease him some more. So much for a MeanMassage here, the little wimp couldn't last. His cock may be big, but he has no stamina at all!