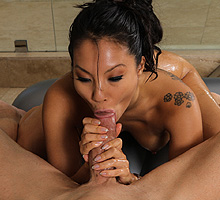 Pop quiz: When you think of sexy Asian girls, what's the first name that pops in your head? If you said Asia Akira; congratulations on your good taste and if you didn't – well, allow me to introduce you to the reigning queen of free Asian porn videos. Actually no introduction is necessary if you just go ahead and check her out in this episode from Nuru Massage.
Getting an Asian massage is clearly a much more interesting experience than getting a regular massage – at least that's what this guy discovered when he walked into a massage parlor to get some life massaged back into his arching body. He was greeted by the busty Asian cutie who immediately laid him out on a mattress on the floor and proceeded to rub her naked body all over his naked body. The sizzling hot Ms. Akira then rubbed every inch of her killer body with oil before sliding all over the surprised but very happy man.
With the two of them embroiled in a game of slippery tag, Asia Akira decided to up the ante by wrapping her lips around the man's cock while smothering him with her pussy. Tasting her sweet pussy is definitely the best Asian meal this man has ever tasted but Asia still had a few tricks up her sleeve so she lifted her ass off his face and got on her knees where she gave him a blowjob and handjob simultaneously until he erupted all over her perky tits. This massage porn video is just one of the many Asia Akira free videos floating around and if you weren't a fan before you watched it, I bet you are now.