Ciara Blue is a very naughty MILF. And her naughty daughter knows it too and SHOULD know better than to leave the house running errands for Mom when her boyfriend Billy is there. Should, but didn't. Ciara wastes no time once her daughter leaves letting Billy know what she plans to do to him. Billy being a nice respectful young man don't want to disappoint so he willingly accepts his girlfriends mothers advances.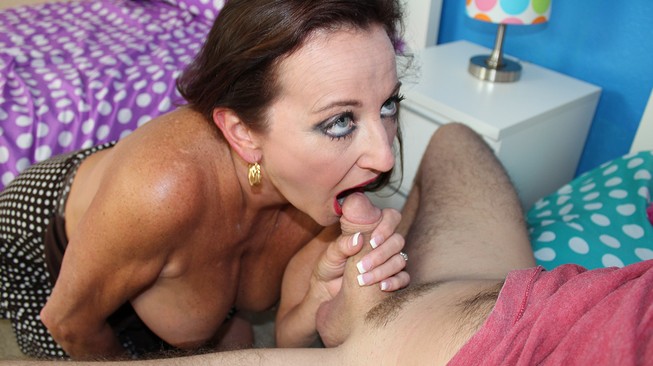 While unzipping Billy's shorts she lets him know how horny she is day in and day out and hearing him fuck her daughter night after night in the next room leaves her lying in bed fingering herself dreaming it was HER enjoying Billy's young cock. And today she was going to get her wish.  Ciara drops to her knees holding Billy's semi hard dick in her hand and begins teasing the head of his dick with her tongue in quick little darts and popping the tip in and out quickly. In NO time Billy's cock is rock hard. Mom knows what she is doing. She begins sucking his cock hard while pumping it with her hand. Breaking her vacuum lock long enough to draw a deep breath while running her tongue over his balls up the bottom of his shaft then quickly resuming her mouth lock on his throbbing meat. SeeMomSuck.com has milfs from all walks of life in hi-def!!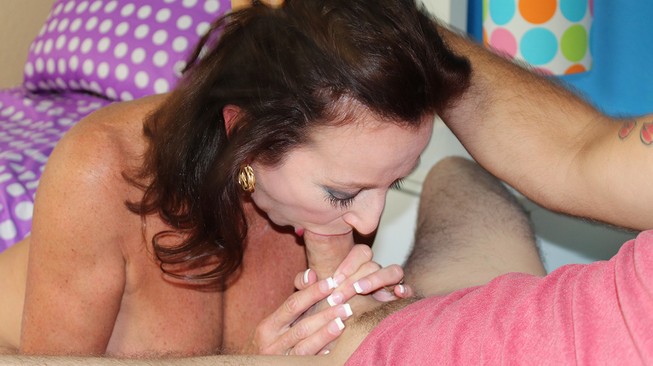 She knows if she wants to see this thru to the end she must hurry. Her daughter would not be out long. While sucking and stroking his fever filled love rod she grips his balls with her other had. Billy responds by grabbing her by her hair and fucking her wet mouth harder and faster. As she feels the tension in Billy's nut sacks and his twinging cock she quickly pulls it out of her mouth and wraps her big soft breasts around it. Billy starts unloading all over her tits. His hot goo covering those huge tits as she smiles and grabs his tender shaft and squeezes the last drop out of it.
Billy loves coming over to visit ALL the time now. Ciara's daughter still don't know that Billy comes to the source for the best and to her for the rest! But a naughty little secret never hurt anyone now did it?