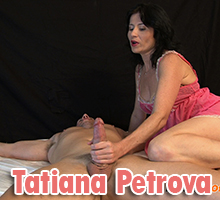 Tatiana Petrova likes her men muscular, with big cocks, and bound with blindfolds so they can't move or see! That's right, this pretty little brunette babe that looks like an innocent housewife is a mistress with the kinkiest of desires that she's not afraid to play out on the cocks of random men. This man, found on Craigslist of all places, has accepted the invitation to come over and be dominated by Tatiana's gentle, but wicked hand.
Tatiana Petrova has bound the man to her bed in the dark spare room she uses only for the purpose of torturing the brave souls who enter her home. After his arms and legs are spread and secure she blindfolds the man so he can't see what she's about to do to his poor cock.
Dressed in her pink babydoll nightie, Tatiana Petrova climbs in bed with her slave. She begins to stroke his semi hard cock with her smooth bare hand. It's just a gentle stroke that gets her slave harder and harder by the second. Her petite hand fits perfectly around his thick shaft. With a full blown erection comes the first brutal blow to his cock. Tatiana squeezes the base of his shaft and begins to mercilessly spank and slap his shaft and cock head. One brutal blow after another softens his dick and makes it sore to the touch.
Tatiana Petrova then becomes gentle again, rubbing his shaft and using her saliva to lubricate and heal his cock from the beating it had received just a short time before. She strokes him and whispers lovingly to him how much she adores his cock and how she wants to feel it grow in her tiny and soft hand. She watches as his cock stretches the skin around it and becomes red and swollen. She knows he's about to cum.
Does Tatiana Petrova actually let her slave cum after just one beating? Is she really that easy on her slaves? I definitely doubt it! You can view the entire gallery from limp dick to cum explosion at MonstersOfJizz.com! If you join the site you'll get HD quality videos instead of just pictures.