Taylor May is the queen of teasing a cock and she is here for another victim of one of her slow, passionate blowjobs that make him want to explode almost immediately. She wraps both of her hands around his cock and start to tease his cock head with her tongue, rolling her tongue around the head and putting him in her wet, warm mouth. She looks him in the eye and doesn't shy away when he sees her watching him, she can see the passion in his eyes.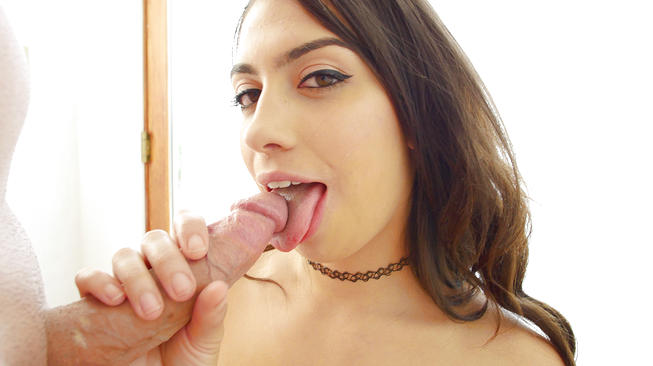 She gets his cock hard and still keeps teasing him, feeling the veins in his shaft starting to pulsate and his balls start to get tighter and filling up with cum. She doesn't hold his cock too tight, in fact, just the opposite, making him squirm to fully feel her touch, he can feel it and it is making his cock rock hard, he wants to cum but wants to make it last as well, and she can sense this in his eyes. As she can feel him start to wince and clinch with her teasing handjob, she knows he hasn't got much more wait in him and he's going to blow his top any minute now.
She had a little bit of a smirk on her face and Taylor May knew exactly what she was doing here, she knows how to make him squirm and she is going to do it as much and as long as she can until his cum erupts from the head of his cock and she feels it on her hands. She continues to lick the head of his cock while holding on with both hands so she can catch all of his cum!! When you get into TeasePOV.com, there are so many videos of gils teasing cocks with their pussy, tongue, mouth, anything they can. It's all about the cock teasing and there is a full site of nothing but that here.