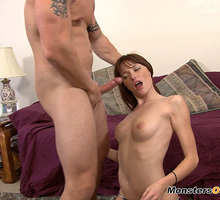 Tiffany Haze grabbed the remote from her boyfriend without him noticing until she changed the channel from sports to a talk show. This type of show, and behavior, is completely unacceptable and her boyfriend had to take drastic measures to prove his point. He forced Tiffany to stand up, bare her ass, and then lay across his lap. He then spanked her ass as hard as he could. But, Tiffany laughed and liked the spanking. She's a kinky girl! He was now forced to take more extreme measures.
Tiffany's boyfriend grabbed her by the hair and forced her to kneel down. He then took out his cock and jammed it down her throat, causing Tiffany to gag. Gagging or not, he shoved his cock back down Tiffany's throat until she started to suck on it like a good girl. Not letting go of her hair or her head, the boyfriend started fucking her mouth hard and fast making sure to ram his cock down her throat as it grew thicker and harder. "This will teach you to change the fucking channel," he said while throat fucking Tiffany Haze. He heard a few distorted words trying to come from her mouth, but just shoved her head down harder onto his cock so she would shut up and just suck his dick.
Relentless thrust after thrust was absorbed by the back of Tiffany's throat. It was becoming painful and she knew that just going with it was the best way to make him cum and stop her punishment. She started tongue fucking his cock as it thrust in and out. She also started applying more suction on the way out and allowed it to go deep down her throat on the way in. She could feel his cock start to thicken and pulse in her mouth. He would cum shortly and Tiffany Haze prepared her throat for a hot load that was surely on its way. To her surprise he pulled out of her mouth and starting jerking himself off. He held her face tight against his cock as he masturbated. She now knew that a facial was on his mind and there was no way out of it. She would have to kneel there and take cum shot after cum shot right to the face!