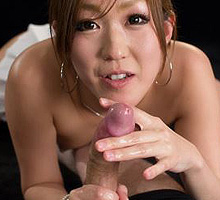 Crawling like a snake about to strike its target, Japanese amateur cutie Mirei Momoka inches closer and closer to a hard cock that's being restrained by a pair of cotton undies. She uses the tips of her fingers to trace the outline of the rock solid cock and gently poke it before freeing it from its confines and stroking the hell out of it in this hot handjob video from HandjobJapan.com
If you love seeing cute Japanese girls stroking hard cocks, you're going to fall in deep lust with Mirei Momoka because even though she is just an amateur, she certainly knows her way around a hard prick when she spots one. The sexy babe with a sultry pout gets on all fours and seductively crawls towards her lover's cock. She tenderly plays with it through the fabric of his boxers before getting rid of the undies and her own top. Topless now, the exotic Asian babe gets down to some serious sensual stroking that is guaranteed to blow your mind.
The sexy handjob vixen's big eyes widen with delight as she lubes up the cock and immediately starts giving it the two hand treatment. Her strokes are slow but firm and even though she's never given a handjob before, she does it so effortlessly and makes it all look so easy. She stares up at her lover as she twirls and twists her tiny hands around his big cock and she doesn't stop jerking it until a huge cumload comes spilling out of the tip of the mushroom head.