Avery Adair had a client come in today and usually she is perfectly fine giving them their message and sending them on their way. But this one today, made her pussy throb and she could feel her clit pulsating, what the hell?!?!? She is going to show him, she takes off her top and bra and sits close to him but not so close he can reach her because she has tied his hands. She starts rubbing her pussy thru her panties while she was jerking off his cock. She then pulled her panties aside so he could see her rubbing her bare pink pussy. This was turning into a mean massage pretty damn fast.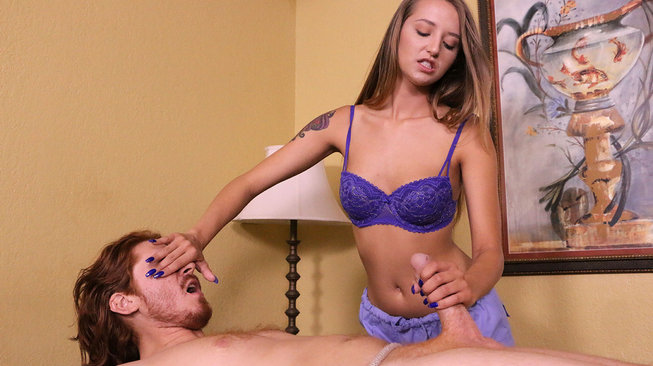 Avery Adair caught him looking at her tits and covered his eyes so that he couldn't see her. She kept pulling and tugging and she had a rope laid over his belly, she was about to tie him down so he couldn't move. He was the one that did this to her and damned if she was going to make him and pay good for this mess he's made. She jumped on the table beside him and forced him to watch her rub her pussy, knowing he couldn't do anything because his hands were tied.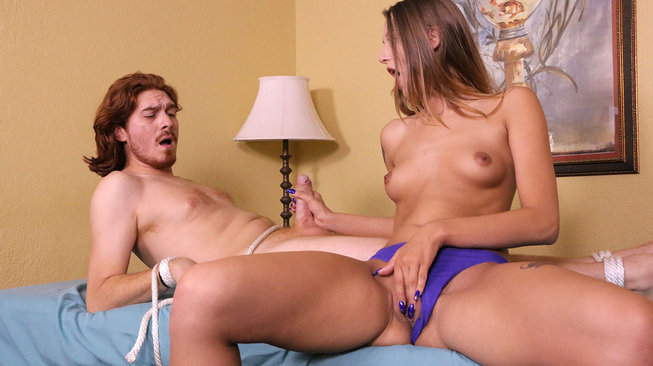 The more she rubbed her clit, the harder his cock got and the harder she stroked it. Thankfully to him, she never tied his cock and balls like she usually does, she just tied his hands down to his sides, which was bad, but not blue cock and balls. He could see her little petite nipples perking up as she rubbed herself and him harder and harder. Her clit was throbbing and she could feel his balls pulsating and the veins in his rock hard cock getting bigger and his whole cock was throbbing, it wouldn't be long now before he shot his fresh mega load of cum all over himself. You can watch her hd videos on MeanMassage.com right here!