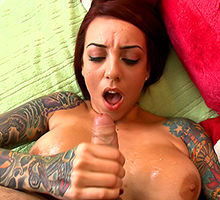 Mila Treasure is a sexy redheaded babe with many, many tattoos. She has a rocking body and a great set of tits. Her look is quite unique and she definitely has a sexual appeal to her. Did I mention she gives amazing handjobs? She does! Mila is a professional when it comes to stroking a dick. What makes her handjobs better than others is that she actually loves to play with a cock. Mila actually gets off on it and her pussy gets soaking wet just from the feel of a cock in her grasp.
Today, her desire to feel a cock in her hands is intense. Al, her boyfriend has been gone all day and she hasn't touched a penis for nearly 10 hours. Mila Treasure needs a dick to wrap her fingers around and she needs one soon! Luckily, just as she was about to explode, Al walked through the door. Mila sat on the couch and waited for her babe. "Come here honey, I want your cock in my hands!" She told Al who immediately began to unbuckle his pants. He almost tripped and fell on his way to get the handjob he knew was in store for him, but finally got his cock into her hands.
Mila Treasure stripped herself naked as quickly as she could while trying to give her man a tugjob. She loves to be completely nude while jerking her guy off because of how wet and turned on her pussy gets. With her body finally bare, Mila gets stroking on Al's hard dick. She grips his shaft firmly and stretches his cock's skin on every upward and downward stroke. Mila even grips his balls firmly and squeezes them tight; she knows how much he loves that. "Fuck my hand, baby!" Mila says to Al wanting him to thrust his cock in and out of her tight grip. "Fuck it hard just like my pussy!" Al follows his instructions clearly. Mila's pussy is soaking wet, and she's dry humping the couch getting herself off as she gives an amazing handjob!
If you want to see the entire video featuring Mila Treasure giving Al a handjob, click the link below and watch now!